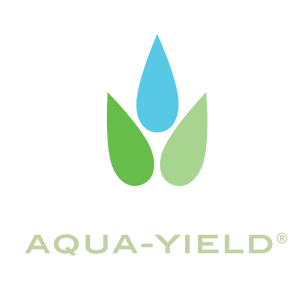 The nanoliquid company founded by growers for growers.
Aqua-Yield® is an award winning nanoliquid company founded by growers, for growers. Our goal is to help provide the tools growers need to be successful through the use of revolutionary nanoliquid technology. Whatever you grow, our nanoliquid technology will improve your program's performance. Aqua-Yield® nanoliquid technology works as a delivery system for crop inputs. While most nutrients enter the plant cell wall through diffusion, the nanoliquid particle will load the molecules and then bulk transport them through the wall by endocystosis. Low use rates (2-6 oz/ac), clean on equipment and the environment, highly compatible with liquid inputs, and easy to use are some of the many proven benefits that come with using Aqua-Yield® nanoliquid technology.
A nanoparticle is usually defined as a particle that is between 1 and 100 nanometers in diameter.  Aqua-Yield® nanoliquid particles are between 10 and 100 nanometers.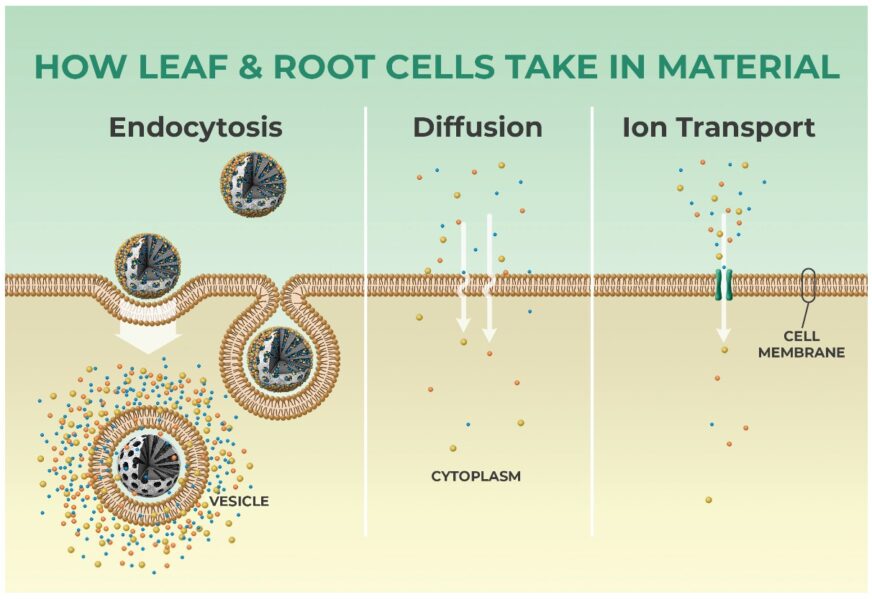 Why Are Aqua-Yield® nanoliquid™ particles special?
Each Aqua-Yield® nanoparticle carries thousands of fertilizer ions or active ingredient molecules rapidly into the plant cell by a plant mechanism called endocytosis. While conventional products are only absorbed through diffusion and active transport, only nanoparticles are taken up via endocytosis.
Loading and unloading nanoparticles
Aqua-Yield® nanoparticles are designed to be loaded with any common fertilizer ion or active ingredient. The particles carry these materials into the plant and release them once inside.


Omni Crop Care effectively works as a delivery system for nutrients and crop protection. Fueled by an Aqua-Yield®️ Technology, Omni Crop Care protects your input investments from environmental losses by quickly and efficiently improving plant absorption. Improved absorption at the cellular level leads to higher concentrations of inputs inside the plant, stimulating plant health and yield potential. This process is called endocytosis, once the package is delivered to the plant cell, the "payload" is emptied.
Omni Crop Care is specifically designed to be a regenerative driver to help foster the cycling of resources and promote a harmonious ecological system each growing season. By incorporating Omni Crop Care into an organic production system, the soil rhizosphere increases biological activity and organic matter. This in turn allows for better storage of nutrients such as nitrogen and a healthy biodiversity required for optimum plant growth.
Especially in times of drought, studies show that an organic production system provides crops a better environment to handle the stress. Omni Crop Care is a tool for growers to help improve on their current management practices.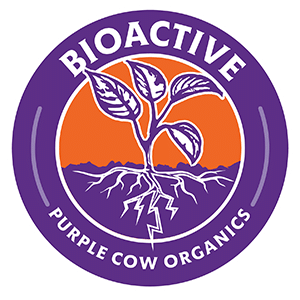 Bioactive™ by Purple Cow Organics is committed to improving soil health, developing plant health, and ultimately supporting animal and human health. We know that healthy soils not only produce more yield but also higher food value for our livestock and increased nutrient density for humans as well as animals. Adding biology and carbon can reduce fertility inputs, saving real dollars and cents.
Our commitment is one of striving to deliver products that are reliable, consistent, and effective. As farmers are faced with supply chain issues, fertilizer shortages, and high prices, we are seeing the true value of healthy soil. When we focus on the soil, we're able to farm not only for production but with an eye to building biology in the soil.
Soil biology matters.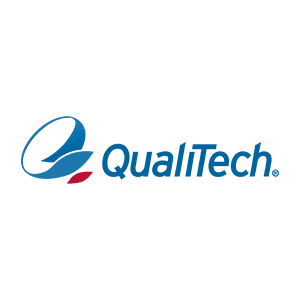 Plant Nutrition Innovation that Drives Customer Success.
QMIN complexed nutrients™ utilize a proprietary manufacturing technology whereby a blend of polysaccharides is reacted with specific ionized nutrients, resulting in complexed compounds which help improve nutrient uptake and translocation within the plant.
Foliar feeding is challenging in practice. This is primarily due to a semi-impenetrable barrier on the outside of leaves called the cuticle, a waxy substance produced by epidermal cells which limits the absorption of positively charged particles. Because of their neutral nature, QMIN™ products can circumvent this barrier and pass through the cuticle and stomatal openings.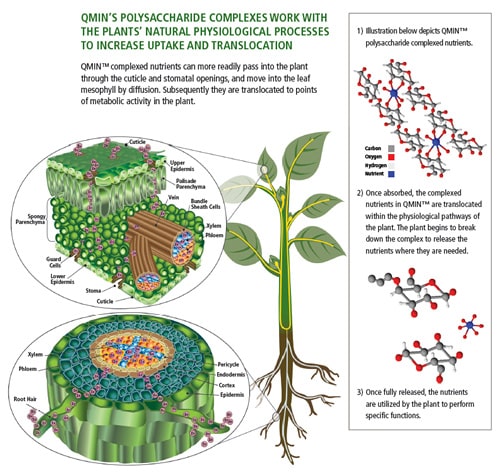 QMIN™ Complexed Nutrients Meet Crop Nutrient Requirements and Provide You with Great Flexibility in Your Operation:
Effective uptake and translocation across a wide range of high-value crops including fruits, nuts and vegetables
Compatible with a wide variety of fertilizers and crop production products, thanks to QMIN's unique polysaccharide complexation technology
Compatibility in a tank mix with other fertilizers and agricultural chemicals allows for the efficient storage, shipment and use of plant nutrients. Compatible mixes, when prepared as directed, stay in solution for a useful length of time, do not produce violent or volatile reactions, do not raise the temperature at which the solution forms a precipitate, nor change the new solution in any other deleterious way. QMIN™ products offer a broad range of compatibility, both when mixed with other polysaccharide complexes and when mixed with common primary nutrient fertilizers. Many QMIN™ products have unique compatibility in acidic solutions.
Stability in low pH tank mixes and acid fertilizers allows great flexibility in management practices and fertility programs.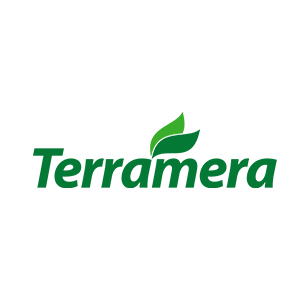 Terramera is a global agtech leader fusing science, nature and artificial intelligence to transform how food is grown and the economics of agriculture in the next decade. With our revolutionary Actigate™ technology platform, we are committed to reducing the global synthetic pesticide load by 80% by 2030 to protect plant and human health and ensure an earth that thrives and provides for everyone. Learn more about the Terramera approach.
Founded in 2010, we are a privately held company headquartered in Vancouver, British Columbia, Canada, and have integrated operations in Canada, the US and India and more than 300 patents in our IP portfolio.

Arizona Agricultural Holding
Arizona Agricultural Holding Co. LLC was founded on the principal of improving soil health for agricultural producers with sustainable and environmentally sound practices. Their first product, Calcine, was developed by International Biologics. It is a soil amendment designed to reduce salinity levels in soil and improve soil health. Dealers create an individualized program for each customer that is easy to use, cost effective, and delivers results. Arizona Ag is rapidly expanding through dealer networks nationally. Sean Cayton and Kevin Howard are second generation owners and are proud to continue their father's work helping farmers add value to their land which creates a sustainable legacy for their heirs.

Sym-Agro serves the horticulture and agricultural specialty markets with a comprehensive assortment of fertilizers, fungicides, biologicals and pesticides. From our headquarters in Visalia, California, we represent, develop and acquire high-quality products to anticipate the evolving markets for pest control. We're carefully curating a growing portfolio that blends the latest technology with novel formulations. This offering, along with the extensive experiences and insights of our global management team, uniquely positions Sym-Agro to anticipate needs and add value for customers across a wide range of industries and operations.